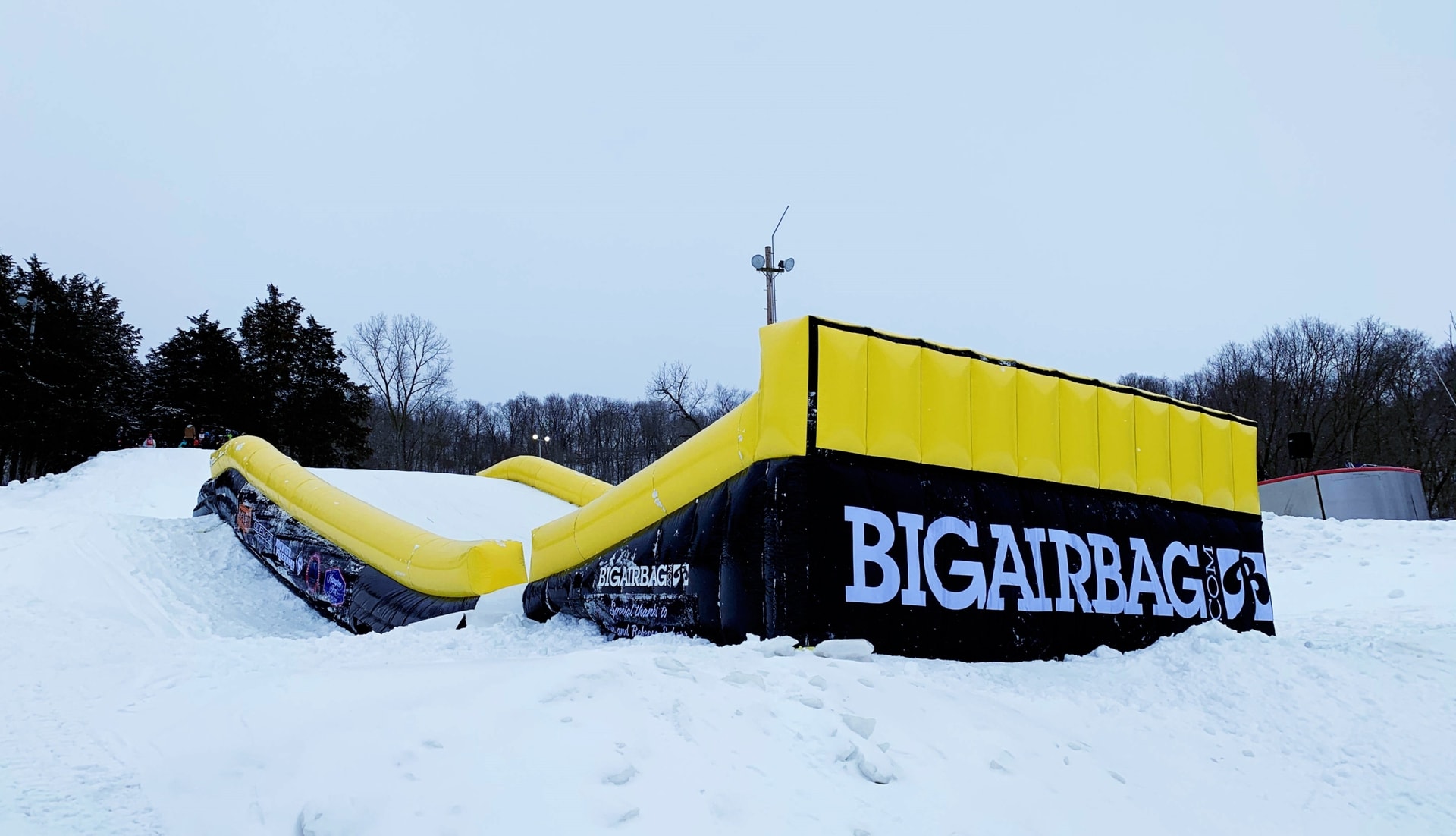 Midwest Freeriders demonstrated a beautiful story of perseverance and innovativeness in order to achieve their dream.
Midwest Freeriders are a non-profit youth ski and snowboard club, geared towards freeride and terrains park instruction. They activate in Sundown Mountain Resort, located in Iowa, USA. Their goal is to teach people interested in winter activities skiing and snowboarding. They provide lessons for inexperienced and professional athletes who want to improve their skills.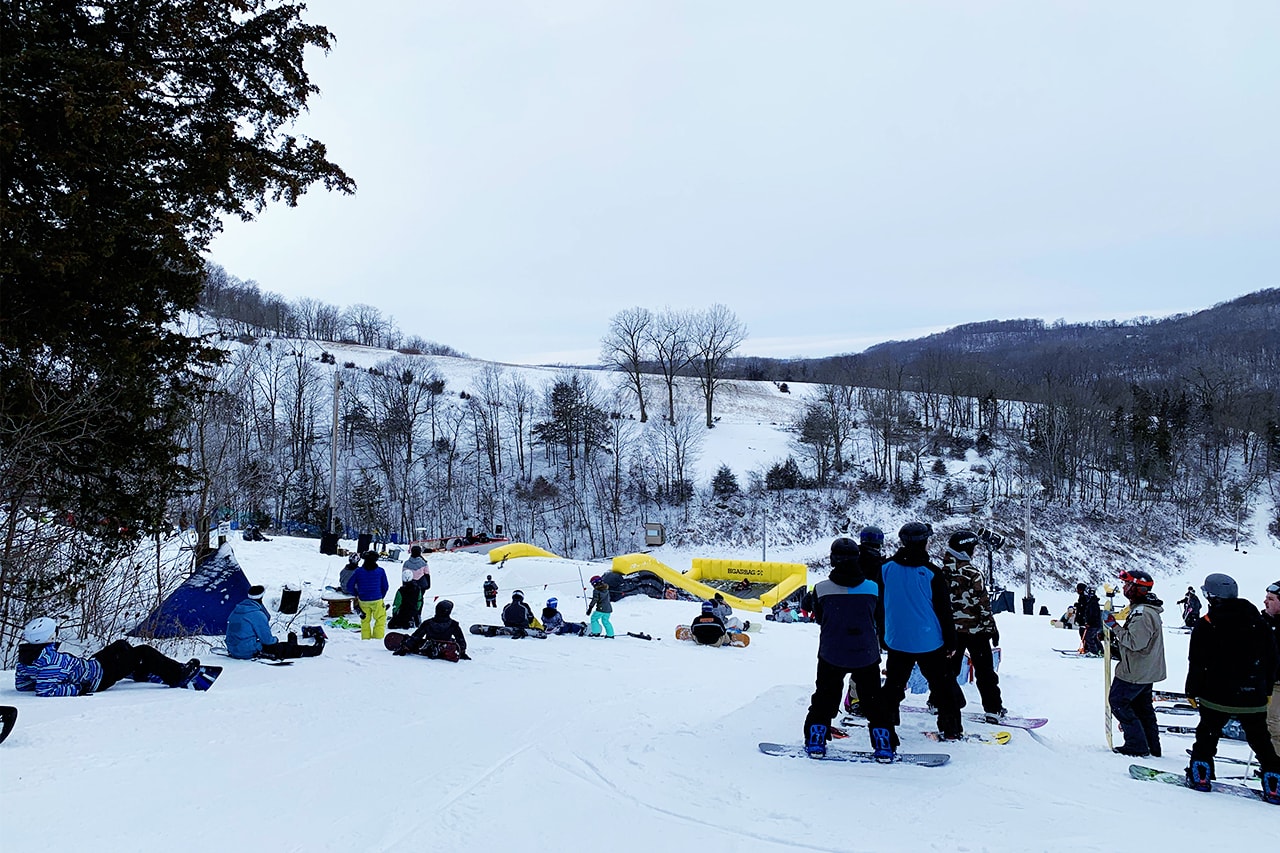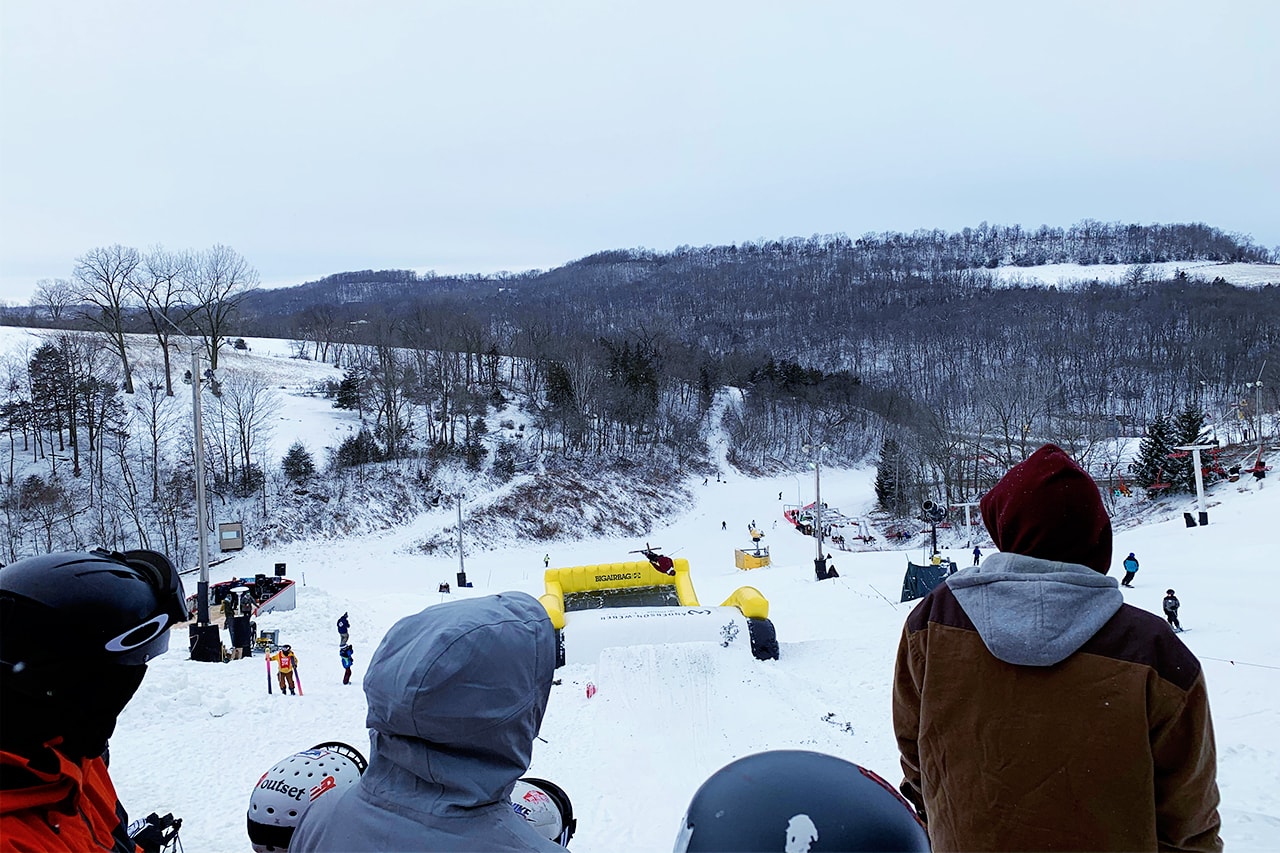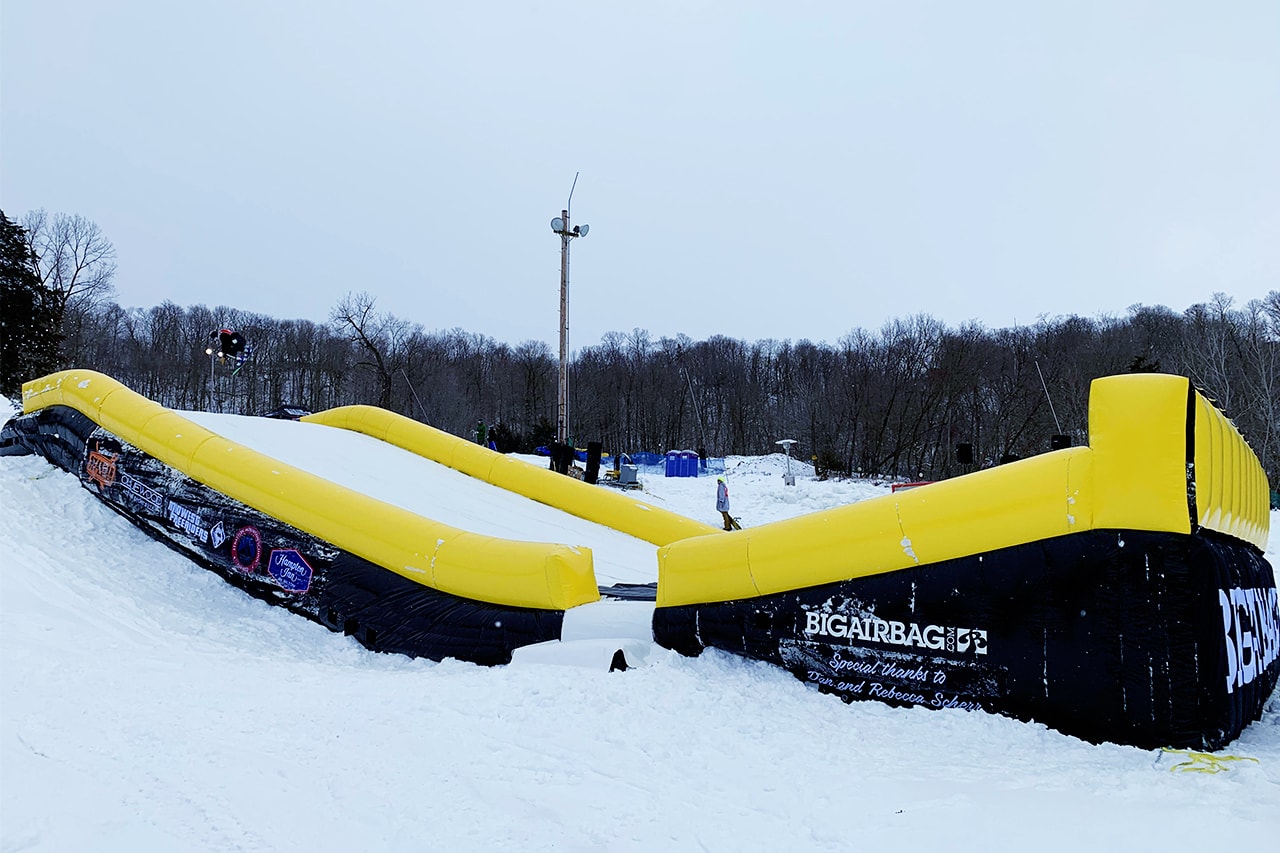 The importance of a LANDING BigAirBag® from a learning perspective
For Midwest instructors it was fairly easy to teach basic movement patterns, however, just a small percentage of people had the courage to try even a small jump on skis or snowboard. The BigAirBag® LANDING was a perfect solution for their goal, as it would have provided the needed confidence and safety to the riders. Moreover, the possibility to include optional side walls which will prevent the slide off the airbag, was another strong point of the BigAirBag® landing airbag.
"As a company, we wanted to provide kids with the tools they need to build confidence in extreme sports and to transfer these skills into the modern world. At the time, students at Stratton Mountain School and the rest of Vermont were having to travel all the way up to a specialist snow park called Maximise in Canada, just to practice with the safety of a landing bag. Having a BigAirBag® would give the students of Stratton Mountain School somewhere closer to train and the local community a chance to try something new.

Ben White - International snowboarder and President of Midwest Freeriders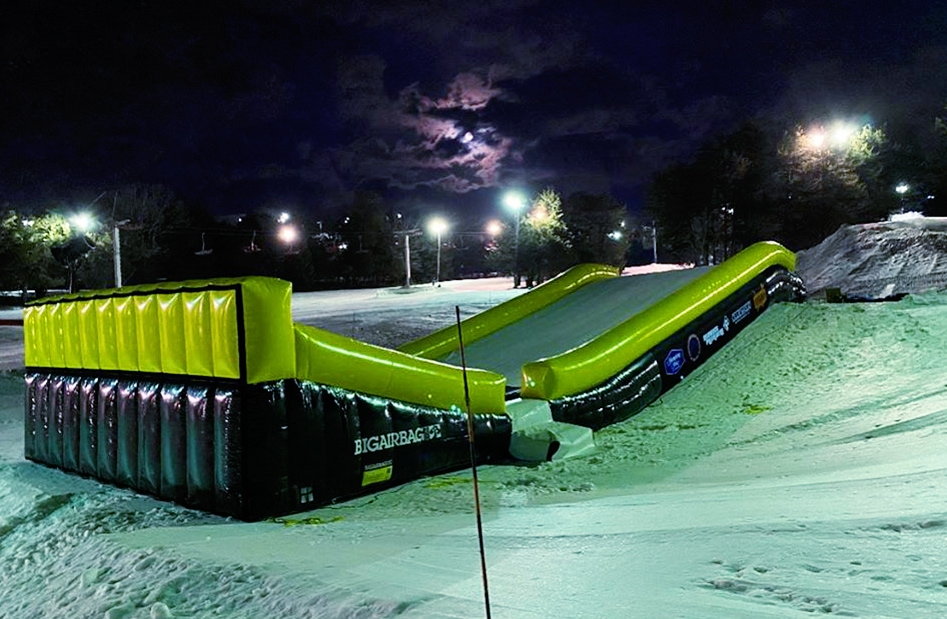 "We did our research and recognised BigAirBag® as the best in terms of quality, safety and the support you offer. "
The features which made the BigAirBag® the perfect solution were:
Fully customizable shape, size and design → meaning it can be manufactured to cover virtually any landing surface, ramp, hill or contour
Adjustable softness and firmness → giving the possibility to adjust the softness of the airbag creating a more realistic or on the contrary, a more forgiving surface
An innovative inside blower system → providing blower protection and eliminating the possible outside damage
Ride away Topsheet technology → allowing riders to land and ride away from the inflatable bag even with sharp ski and snowboard edges
So, how Midwest Freeriders collected the funds?
Due to the fact that Midwest Freeriders are a non-profit organization they didn`t have resources to buy a Landing straight away. Nevertheless, to achieve their dream, they had to be creative, and decided to organise a fundraising campaign. The Freeriders made a smart move by collecting the funds in many stages. 
For starters, they organised skateboard/bike events and sold merchandise to gain momentum and brand awareness. They even went on Dancing with the Stars on TV to raise money and put on music events.
Another successful way of fundraising was using billboard space on the mountain to spread the message to the local community and Sundown Mountain Resort's customers.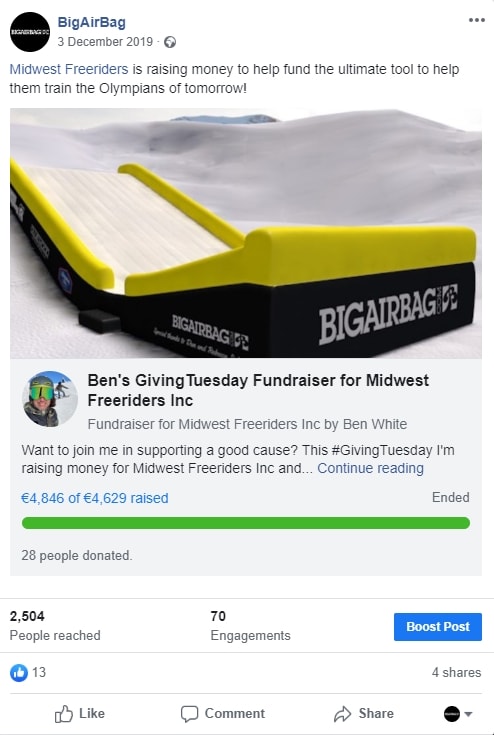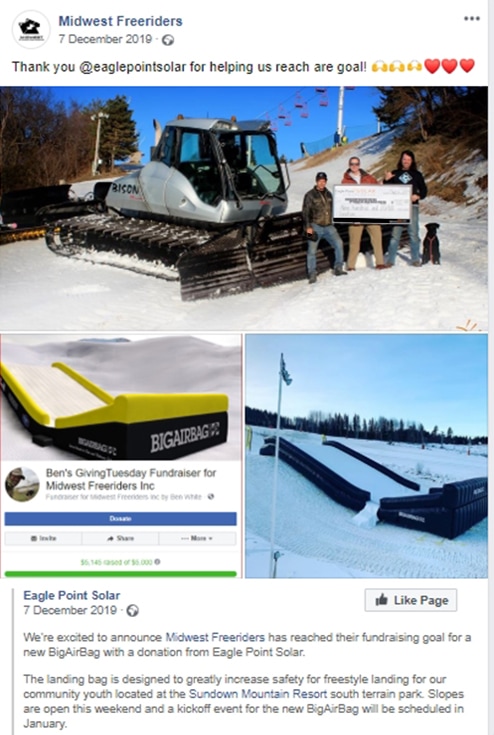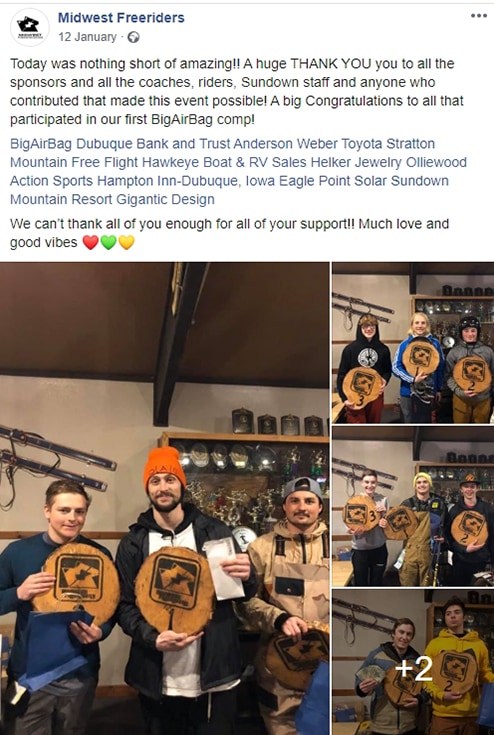 "Social media marketing played a pivotal role in us achieving our goal too, with our Facebook fundraiser campaign raising a staggering $5,000+ dollars in one day."
To mark the arrival of the BigAirBag®, the MidWest Freeriders organised an opening event inviting people to compete. It was a fantastic success, with over 500 people watching, 50+ competitors, all drink selling out and extra revenue generated through food sales. They managed to boost event awareness and the arrival of the BigAirBag® by encouraging people to post a photo on our website with their pre-registration.
"There's no denying that getting started with fundraising was hard at first. But once the wheels were in motion, the message spread quickly and the community wanted to help play their part in our success. Sure, you hear a lot of no's along the way, but it's worth it in the end.

Ben White - International snowboarder and President of Midwest Freeriders
Find out more information about the BigAirBag® LANDING
It's easier than you may think! Possibilites to fund a LANDING BigAirBag®
As seen in the article, there are many ways to fund an airbag investment. Take into consideration opportunities such as:
Rental of the BigAirBag® → for personal use, events, marketing agencies, shows or festivals. 
Crowdfunding → multiple online platforms such as Kickstarter, GoFundMe, Indiegogo, Seedrs or Facebook 
Selling a show → find a person who can perform tricks which will be interesting for a crowd
Clever marketing → BigAirBag provide ongoing marketing support to help you raise funds, including exposure on our social media
Sell private session → personalised services to individuals or athletes
Sponsorship and branding → our airbags are fully customizable, so it is attractive for sponsors to be featured on an immense inflatable banner

Fundraising event

Sell merchandise