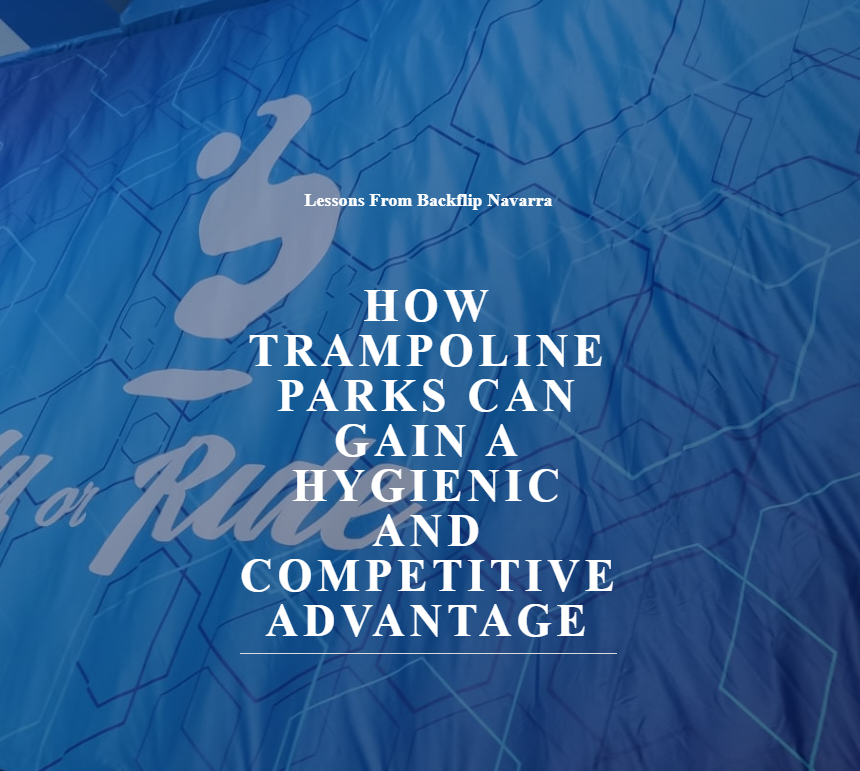 With the world currently experiencing a 'Great Reset', discover how Backflip Navarra's journey as a business can help inspire your trampoline park to bounce back.
Trampoline parks around the world are facing many challenges to encourage people to use their facilities for training and leisure.
However, better times are on the horizon. According to the Global Trampoline Market report, the trampoline park industry is expected to grow more than 17.2% between 2021 and 2030.
There are also clear game-changing solutions helping trampoline parks bounce back after a turbulent 2020 and create a safer environment for customers. One case example is Backflip Navarra's decision to swap their foam pit for our Air Pit.
THE CHALLENGES
Backflip Navarra is a Spanish park offering a safe and professional indoor environment to anyone who wants to learn or practice action sports. The list of sports covers everything from acrobatics and ski jumping to snowboarding and parkour.
Their park welcomes some of the best professional coaches in elite sports. Yet, to get the most out of its students, prevent injuries, and maintain its reputation as a leading park, Backflip Navarra needed to upgrade its facilities.
A big problem with their previous foam pit was the demanding maintenance duties. To keep the characteristics of a foam cube, leisure and training facilities like Backflip Navarra must maintain the air compartments by ''fluffing'' every cube frequently. This is a handling technique used to add air between the different foam structures.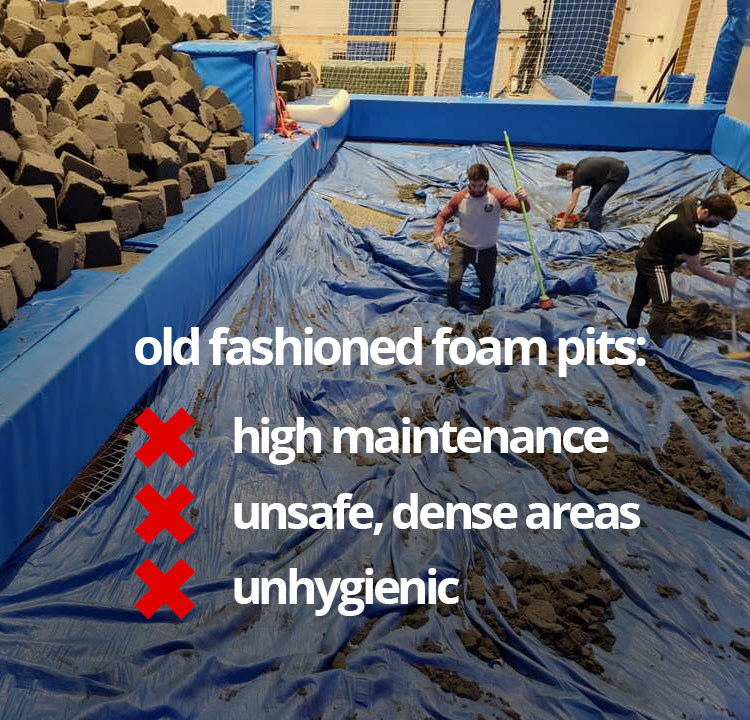 Without carrying this process out frequently, the foam pit will start to form a hotspot where foam cubes compress and form a dense, unsafe area for people to land on. Backflip Navarra also had to contend with the rapid accumulation of dust and consider tighter Covid measures. Carrying out these deep cleans demanded a lot of time from Backflip Navarra's volunteers, forcing them to close the area for a few days.
In a post-pandemic world where hygiene is essential and competition is high, they needed a smarter solution.
Minimizing Bacteria Buildup
The BigAirBag® Air Pit offers a different cleaning and hygiene experience. No lengthier, deep cleans requiring multiple staff every week. The satin top sheet is anti-microbial and treated with an antiviral product capable of destroying bacteria and germs.
With the BigAirBag® Air Pit, Backflip Navarra only needs to allocate two staff and 30 minutes a month to clean the surface. This makes a welcome change from a minimum of six people and an hour of maintenance required every day with a foam pit. Just think of all the money you could save if you applied this logic.
Maximize Throughput
Backflip Navarra's goal is to always offer the perfect training conditions to anyone who visits. But they felt the foam pits of the past were holding them back. A foam pit can handle a throughput of around 120 per hour, but a BigAirBag® Air Pit offers up to three times that amount at 360 per hour.
Throughput is a critical factor in the customer experience at trampoline parks. The amount of customers or athletes jumping per hour is the barometer for customer satisfaction. The more jumps a visitor can get in an hour, the more fun they'll have and the more progress they'll make.
With their BigAirBag® Air Pit, Backflip Navarra has been able to transform its old foam pit into a multifunctional training space for its users. They've even been able to open the space to more athletes to help increase revenue opportunities.
Supercharged Branding
As Backflip Navarra found, the satin top sheet isn't just a benefit to hygiene. It's a statement of intent. A logo or strapline printed on the satin sheet gives the facility a lift and adds a level of professionalism.
When customers and athletes walk through the door, they want to know that they're using a quality facility. A clean, tidy, and branded BigAirBag® Air Pit positively transforms first impressions.
In contrast, a foam pit can start to look tired, untidy, and uninviting after a few months of use. With supercharged branding under the spotlight, a BigAirBag® Air Pit is amazing for photography and marketing purposes. Social media shots look inviting and appealing.
The BigAirBag® Air Pit is a giant billboard cushion people want to use as a backdrop. Athletes quite often want to train at the best facilities they can find, and a professional trampoline airbag over a foam pit can make all the difference.
Creating New Opportunities
The addition of the BigAirBag® Air Pit totally transformed Backflip Navarra's trampoline park. The throughput increased, hygiene standards enhanced, and their brand image elevated.
This new trampoline airbag breathed new life into Backflip Navarra after a tough year of closures and a distinct lack of business. The customer experience has reached new heights, and customers are noticing the difference.
Backflip Navarra is already attracting new customers and inspiring better performances from athletes. There are no limits, just possibilities.
"There are two main reasons why we invested in Air Pit. The first reason is hygiene. With BigAirBag we have improved massively in terms of hygiene. And the second reason is safety. The impact absorption is much better on a flat surface compared to foam blocks, which create loose air pockets and therefore can cause serious injuries. The result with the BigAirBag is spectacular! Our customers feel safer and have congratulated us on this investment!" – Iker Aoiz (Backflip Navarra)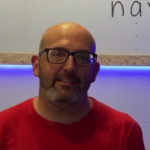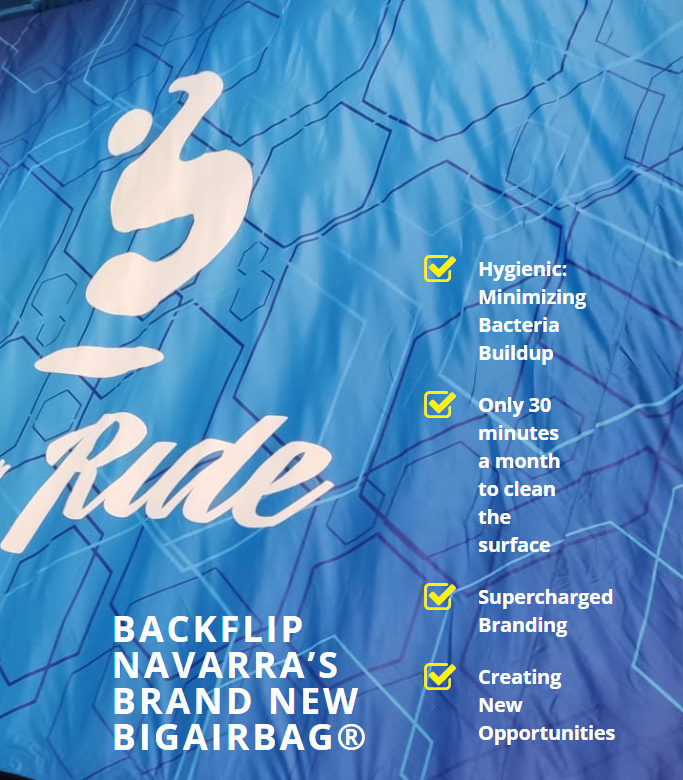 Get in touch with our sales professionals to find out more about BigAirBag® and the broad variety of products we offer as solutions to your challenges.