Why our sophisticated HIC testing methods ensure your park can provide a safe adventure experience for your visitors.
Author: Allard Stoute – Commercial Director. For more information on Adventure & Holiday Parks call +31615308314 or send an email to [email protected]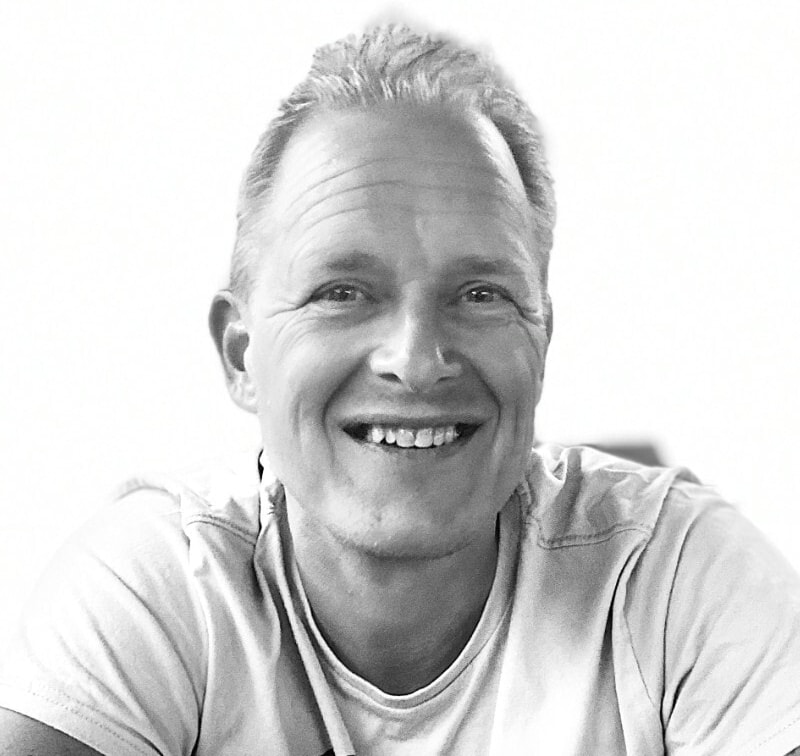 The Head Injury Criterion
The most commonly used metric
The Head Injury Criterion, commonly known as the HIC, is the most widely used metric for head injuries. The HIC can be used to assess the safety of many different products, including BigAirBag®'s range of attractions. The HIC can measure the safety level of:
Vehicles

Sporting equipment

Personal protective gear
40+ years of the Head Injury Criterion
The HIC metric was created by the NHTSA (National Highway Traffic Safety Administration). It's been used since 1972 to determine risk factors and assess safety standards. Although the HIC has been in wide use for a long time, HIC testing isn't always perfect. It doesn't account for every possibility.
The HIC measures a product's safety using a HIC manometer. This measurement is based on translational acceleration. That means that it ignores how rotation affects acceleration.
A more sophisticated method
In collaboration with Wireless Value, a company that manufactures HIC manometers, BigAirBag® has developed a foolproof and advanced HIC testing system.
Every BigAirBag® product goes through a series of rigorous safety tests pre-market.
Trusted testing
During our safety testing, we focus on each of the following factors:
Fall height

Drop speed in G's

Fall time

Impact value in HIC

Critical fall height
Measuring all these different things gives us a complete sense of exactly how safe our products are. We're then able to fix any concerns long before our attractions are available to customers.
BigAirBag® versus a competitor's airbag
To put our safety claims to the test, we used our method to measure an original BigAirBag® against a similar product from a competitor company. The results conclusively prove our dedication to safety.
We tested the airbags at 3 different heights – 3, 4 and 5 meters. Both airbags were set on the same amount of pressure – 1.6kp. Both airbags were tested with the same 10kg Wireless Value manometer. At every height, the BigAirBag® product graphed a much softer curve than the competitor airbag.
The smoother the curve, the softer the airbag.
A better standard of product
A lot of airbags, like the competitor airbag in the HIC test, are designed primarily for children. At BigAirBag®, we do things differently.
We design our bags to suit a wide range of heights and weights. They're perfect for anyone and everyone. They're also much safer for people with fragile joints.
For safe, well-crafted attractions, choose BigAirBag®.

For low-maintenance, easy-installation products, choose BigAirBag®.

For a customizable and quality experience, choose BigAirBag®.
Look out for the signs
The most common symptoms of a head injury are:
Unconsciousness
Confusion
Fits/seizures
Difficulty speaking, walking and/or staying awake
Problems with senses (hearing or vision)
Vomiting
Memory loss
Dangerous adventures have dangerous consequences
Adventure park head injuries can have serious consequences for the sufferer and the responsible business. An unsafe adventure experience could cause a skull fracture, a concussion, or even permanent brain damage.
Head injuries are unpredictable. You can't plan for them, and you can't remove the risk of them happening entirely. But you can hugely mitigate that risk with proper practice.
BigAirBag® works hard to lower the risk of injury by making our products as safe and robust as possible.
Head Injury Criterion & BigAirBag
The Head Injury Criterion (HIC) is a measure of the likelihood of head injury arising from an impact. The HIC can be used to assess safety related to vehicles, personal protective gear, and sport equipment. The current gold standard to access damage to the head is the Head Injury Criterion (National Highway Traffic Safety Administration, 1972). Proposed more than four decades ago, this criterion attributes brain damage exclusively to translational acceleration and entirely ignores the rotational effect. Safety is of crucial importance for playground equipment. Accidents can happen and an unsafe fall surface regularly causes injuries to your guests. Therefo r BigAirBag test its products at the highest level of safety.
In cooperation with ''Wireless value'' (a 'design center' for wireless products and manufacturer or the HIC manometer) we developed a sophisticated way of testing BigAirBag's on several topics:
Fall height

Drop speed in G's

Fall time

Impact value in HIC

Critical fall height
We tested our BigAirBag adventure model against an airbag of model X in the same size from our Asian competitor.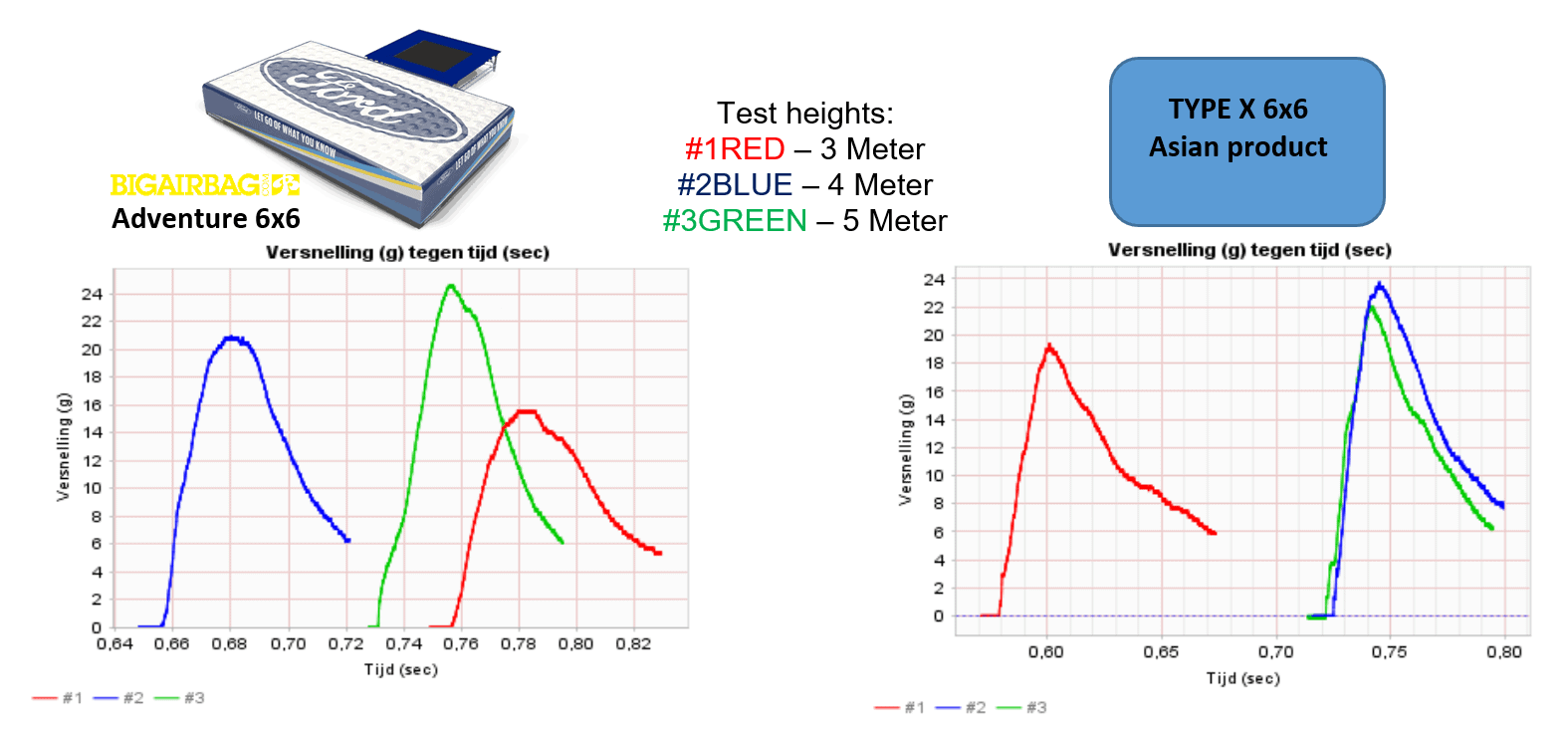 The HIC Manometer is a ball with a weight of 10KG that drops into the Airbag and measures the above parameters. The G-forces indicate the energy deduction of the manometer. In the upper scales you see the graph rising – this means that the ball is dropping. The turn of the curve indicates the softness. The smoother the curve the softer is the airbag. Both airbags where set on the same amount of pressure (1.6kp).
Conclusion:
The HIC test on an original BigAirBag VS a replica shows that the impact curve on all three fall heights is much more aggressive on the replica than it is on the BigAirBag. This type of airbag is often used in the trampoline park industry where kids are the foremost users of this product. The weight of the user is not very high so it is of utmost importance that an airbag is performing accordingly! Especially at the moment of impact for lighter jumpers and body parts with weaker joints like an ankle or a knee to prevent injuries from happening.