Learn how you can create a safe, fun training center that transcends the current reality and keeps your loyal members coming back for more.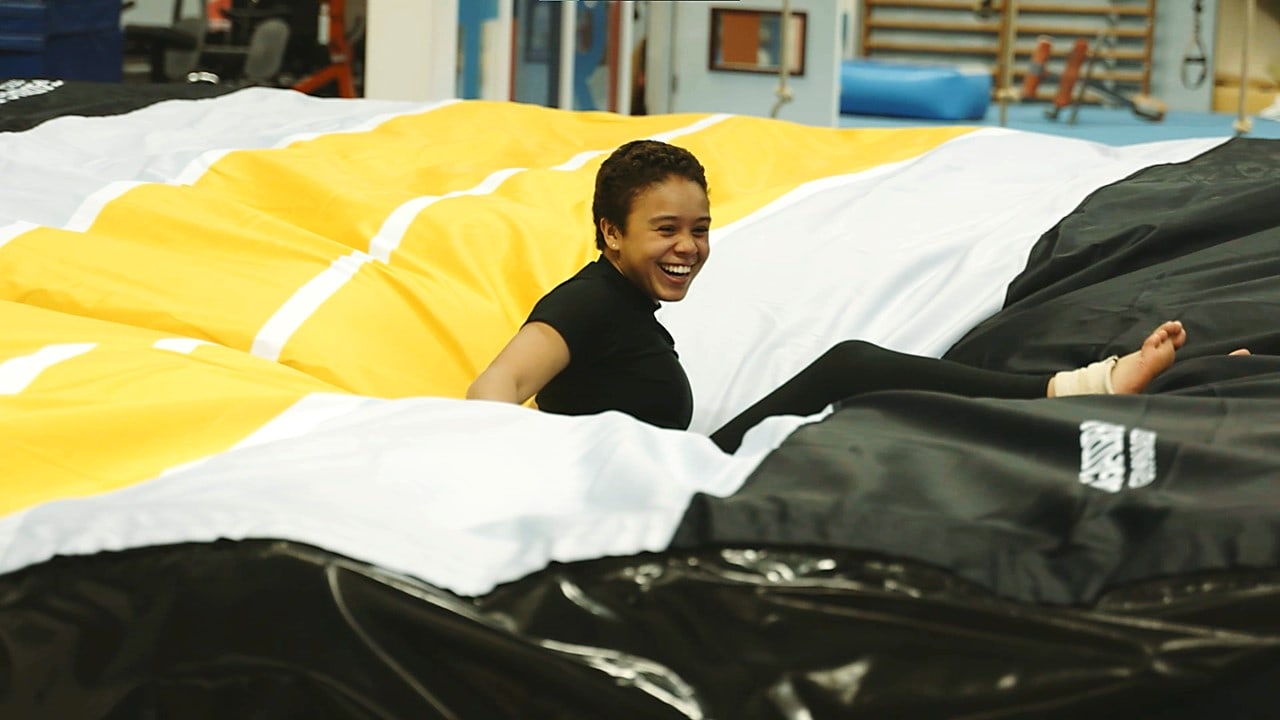 The past year has been a real whirlwind. While some people will be eager to get back to their gymnastics centers, many will understandably have their concerns.
Parents and athletes will have new expectations about the safety and cleanliness of your training environment. If you do not meet these, many of your previously loyal members will start to look elsewhere.
After all, times have changed. It's inconceivable that you could simply open-up, as though the pandemic never occurred, and expect people to come flooding-in, just as they used to.
It's time to get serious about safety. If you don't, your business will likely suffer.
Author: Allard Stoute – Commercial Director. For more information on gymnastics call +31615308314 or send an email to [email protected]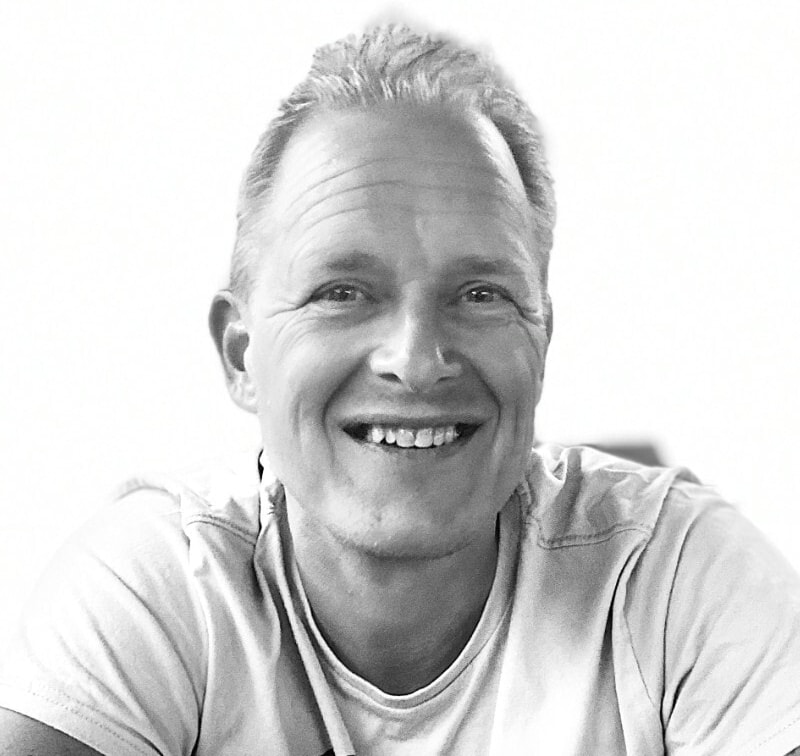 A COVID-19 outbreak in your training facility is a sure-fire way to ruin the good reputation that you have created.
To prevent this from happening, there are several safety practices that you should be following.
For example, setting-up a one-way system across your training facility will ensure people don't come into unnecessary contact with one another.
Other simple ideas include:
Placing social distancing markers

Issuing washable facemasks to all staff

Establishing proper cleaning routines

Installing sanitary stations

Scheduling appointments to avoid overcrowding

Closing urinals and asking people to use cubicles
You should carefully consider all of these points if you're looking to meet new hygiene standards, safeguard the athlete experience and protect your long-standing member base.
Yet, all of this hard work can be undermined by overlooking the one stand-out health and safety pitfall that might just be COVID-19's best friend…
Say "goodbye" to foam pits
Loose foam pits have been a staple of many training centers for decades, enabling athletes to try out complex aerial maneuvers.
But in recent years, they've been the subject of intense scrutiny, as more and more gyms start to realize the hazardous effects they can have on human health.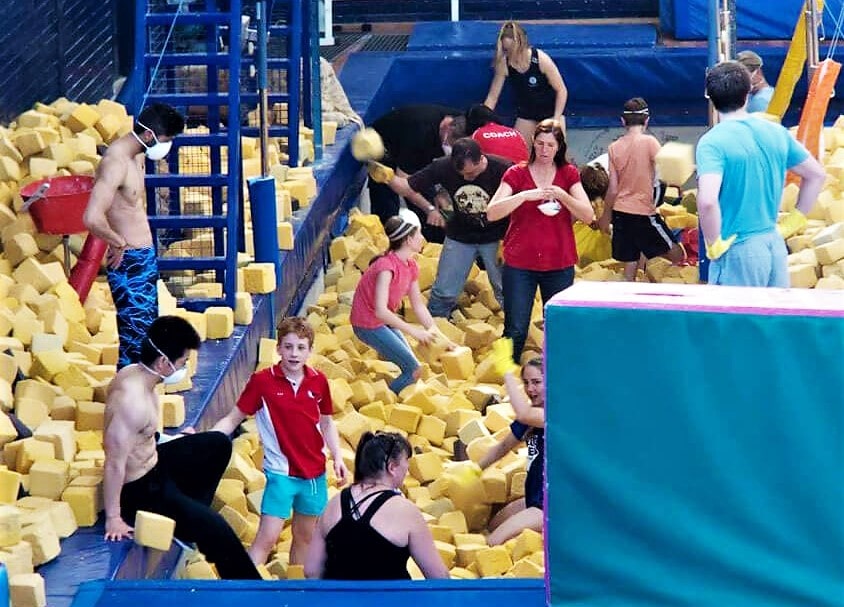 For starters, foam pits are prone to causing landing issues. When athletes continually land in the same place, a 'hot spot' will start to form where the foam cubes condense and take longer to regain their shape. This can really compromise the cushioned landing required to minimize impact.
There are large question marks over the chemicals used within them and the impact they have on our health too.
Research from Dr. Courtnay Carigan of MSU University even found that chemical residues, which were found on the bodies of gymnasts using foam pits, had some serious negative health implications.
In fact, with repeated exposure, these chemicals can cause thyroid problems, infertility and even cancer – amongst many other health concerns!
These revelations have caused many gymnastics centers around the world to turn to safer alternatives and the COVID-19 outbreak will only continue to speed up this transition over the coming months.
Foam pits can be a real breeding ground for COVID-19 and most do not offer any antiviral protection.
Not only is this the case, but cleaning a foam pit is a near-impossible task. Each block would need its own, individual deep-clean.
Just try doing that every couple of hours!
With foam pits being a real threat to the health and safety of young athletes, it's time for a more innovative solution.
In this new world where offices are removing every possible soft furnishing to protect their teams, very few of your members will look at foam pits and feel reassured of their safety.
The number one alternative – which ensures COVID-19 protection, fire retardancy (that's safe!), and even safer landings – is a Foam Pit BigAirBag®.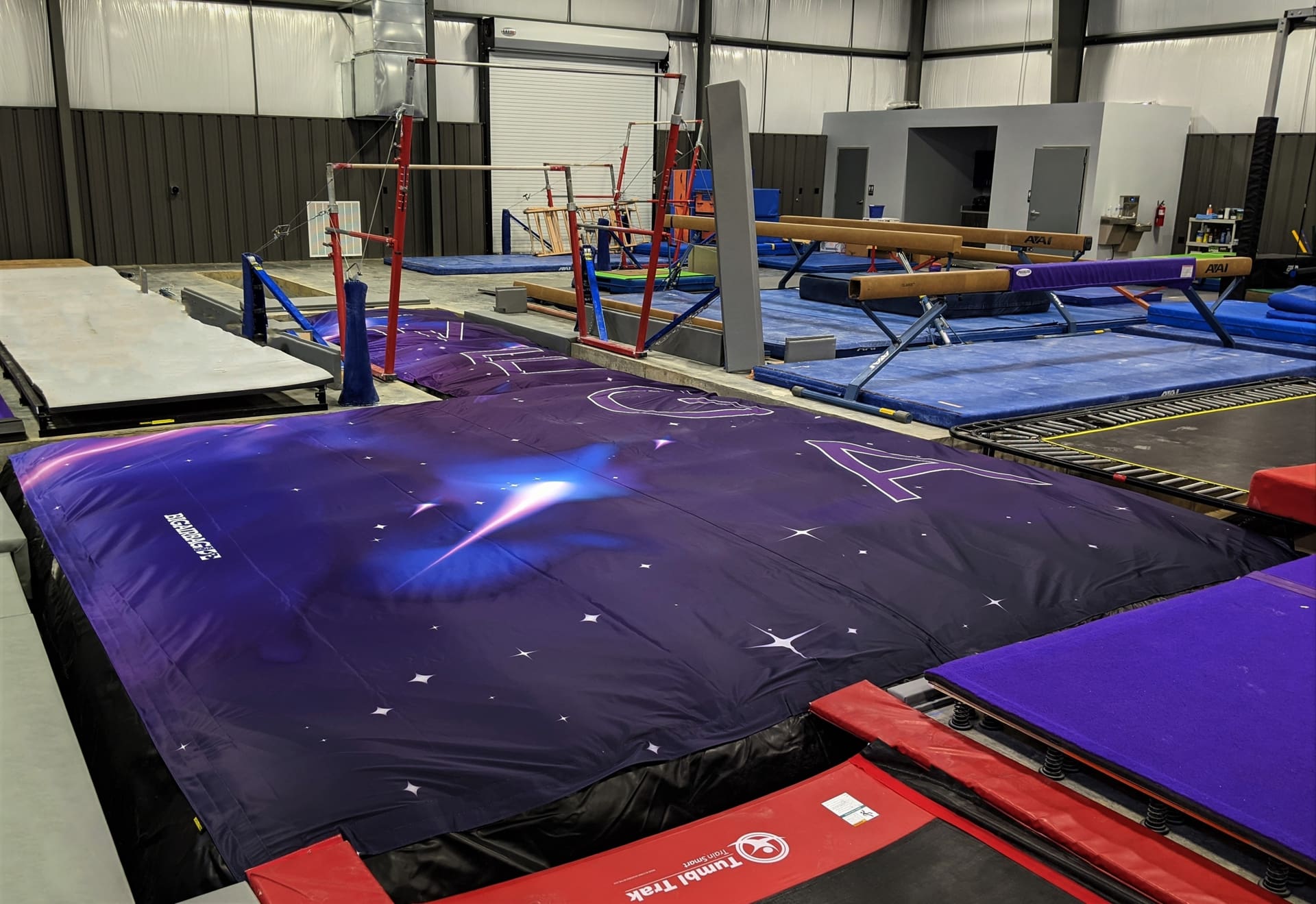 Coated with an antiviral and antibacterial soft satin top sheet, a BigAirBag® obliterates and prevents the growth of pathogenic micro-organisms.
This isn't a new innovation. Even before the pandemic, our BigAirBag® was safeguarding gymnasts with their soft-touch top-sheets that contain advanced antibacterial and antiviral additives.
Effective against COVID-19, the innovative solution provides training facilities with a safe, quality and durable alternative to foam pits.
As well as being easy to clean, more hygienic to use and improving safety, a BigAirBag® also provides the following benefits:
Decreases athlete downtime

– gymnasts will no longer get stuck in the foam! Just take a look at the time difference between a foam pit and a BigAirBag®! 

Increasing maneuverability

–

the lightweight solution can be easily taken from one area of the gym to another.

Speeding-up inflation

–

our innovative product enables the solution to be "ready to go" in just one minute.

Greater throughput

–

enjoy simultaneous landing from heights of up to five meters for complex maneuvers.

Lowering maintenance costs

–

you no longer need to re-fluff foam cubes or waste hours cleaning. The topsheet can be frequently changed and the pressure can be adjusted in minutes. Our team is on hand to answer any questions when you need some extra support too.
To put the cherry on top of the cake, you can add your branding to the design of your very own BigAirBag®, in full color!
With all of these great benefits, it's no wonder why the world's most successful gymnastics squad, the USA Gymnastics Women's National Team, turned to our innovative solution.
No doubt, the BigAirBag® will help them in their quest to win competitions and make even more improvements.
After all, our solution has been meticulously designed to not only provide a much more hygienic alternative to foam pits, but also to support performance at the very highest level.
With all the basics in place and your BigAirBag® secured, it's time to shout about all the hard work that you've been doing. This will help to reassure gym members, entice them back and, in turn, increase revenue.
Of course, you can use traditional means to reengage members with your pristine training center, including email blasts, social posts and flyers. But why not go one step further?
To truly stand out and reassure athletes of their wellbeing, create a video in which you film an athlete's journey through your COVID-safe facility.
Film them scheduling appointments beforehand, using sanitation stations, keeping a social distance and so on, familiarizing everyone with your new safety protocols.
By doing this, you can set new standards, offer reassurance as to the cleanliness of the gym and show off all your super-safe new equipment, like the BigAirBag®.
With a clean facility and equipment that matches your athletes' ambition, you can use video across all your social platforms to entice members back and generate new interest.
Secure your BigAirBag® today
Being a business owner is tough right now, especially within the sports and leisure industry. The COVID-19 pandemic has presented you with numerous challenges to overcome.
However, the BigAirBag® is here to help you flip your fortunes around and come back stronger.
So, if you are looking to provide a safe, high-performing environment, get in touch with us to find out more.