Pulsion Nitrof are kings if it gets to FMX stunts, alternating between various vehicles and performing stunts on the 15x15m BigAirBag® REVOLUTION. An interesting thing about this stunt airbag is that the topsheet is reinforced with a kevlar coating, protecting the material against a hard landing like that of the snowmobile weighting approximentally 250 kilograms.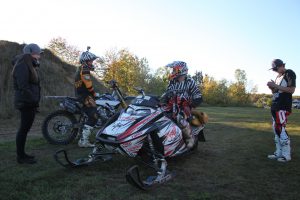 Pier-Luc Trepanier on the snowmobile discussing flight plans with fellow pilot prior to launch
Pulsion Nitrof is of Canadian origin and their prime goal is to provide advice, vehicles and courage to any soul willing to perform extreme stunts featuring the BigAirBag®. Anyone can hire Pulsion Nitrof to their event for an epic show full of flips and extreme fun.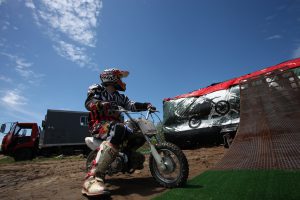 Bikes of all ages are welcome to jump onto the airbag!