Physical Education Setup with the Gymnastic BigAirBag
The demonstration at Driestar College, Gouda is a great example of one of the many ways you can use a Gymnastics BigAirBag in your physical education class. We supplied two airbags of the dimensions:
Large – 520 x 325 x 95 cm – 16.5 x 11 x 3 ft.
Extra Large – 600 x 450 x 95 cm – 19.5 x 14.5 x 3 ft.
The XL fit perfectly between the wall trampoline and climbing rack. Giving the choice to jump from the trampoline for more skilled tricks or the climbing rack as a freefall simulation.
The large has the mini trampoline in front to provide a bigger challenge. It is a great way to progress between the large trampoline with extra large BigAirBag! After a while, the mini tramp and BigAirBag setup created a friendly competition of jumping the rope. We saw kids who usually don't dare to do a somersault, trying double somersaults! The added safety of being able to not land perfectly really adds to the confidence and experience of the students.
Variations of all sorts can be made to the setup by simply including a high jump rope, rings or trapeze! Two things are guaranteed: fun & a soft landing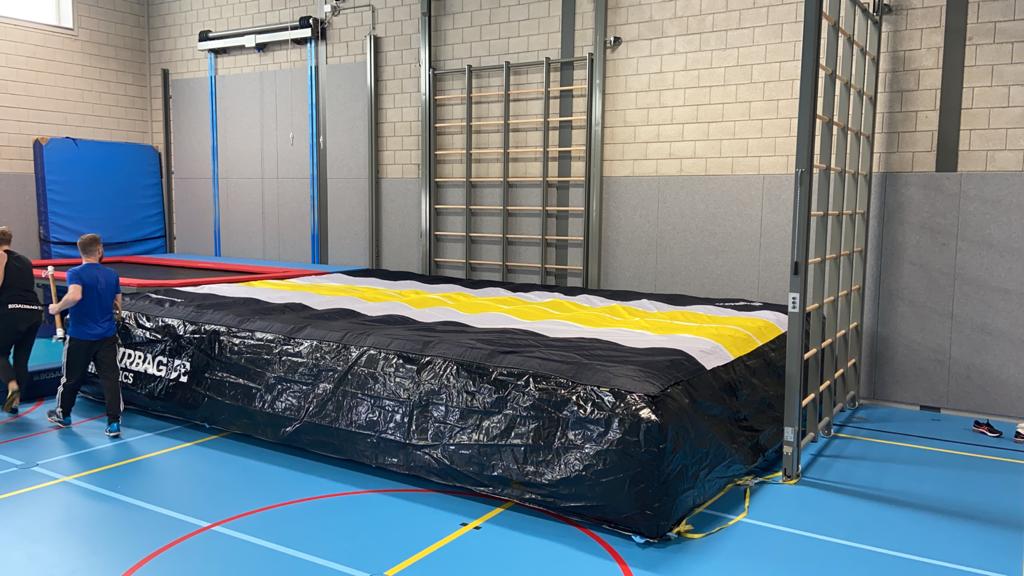 "The students really took over once the class started! Creating their own tricks, innovative ideas on how to jump and have even more fun. It was awesome to see the progression throughout the day as the kids gained confidence in themselves, as well as the BigAirBags. We even had a student in a wheelchair, who was able to swing from the trapeze and jump into the BigAirBag!

Tomas Huting - CEO BigAirBag®
      Check out our socials for more incredible content!
See the installation through our eyes
Check out the video below to see the experience of the students and teachers with the Gymnastics BigAirBag!
Find out more about the Gymnastics BigAirBag®!