Welcome to Rebel park, the first action sports facility in the south of Sweden. In the center of Bromölla, not only the pro's, but all people who want to have a challenge can get their adrenaline pumping. In 2019, Rebelpark opened its doors to the public and they are booming ever since.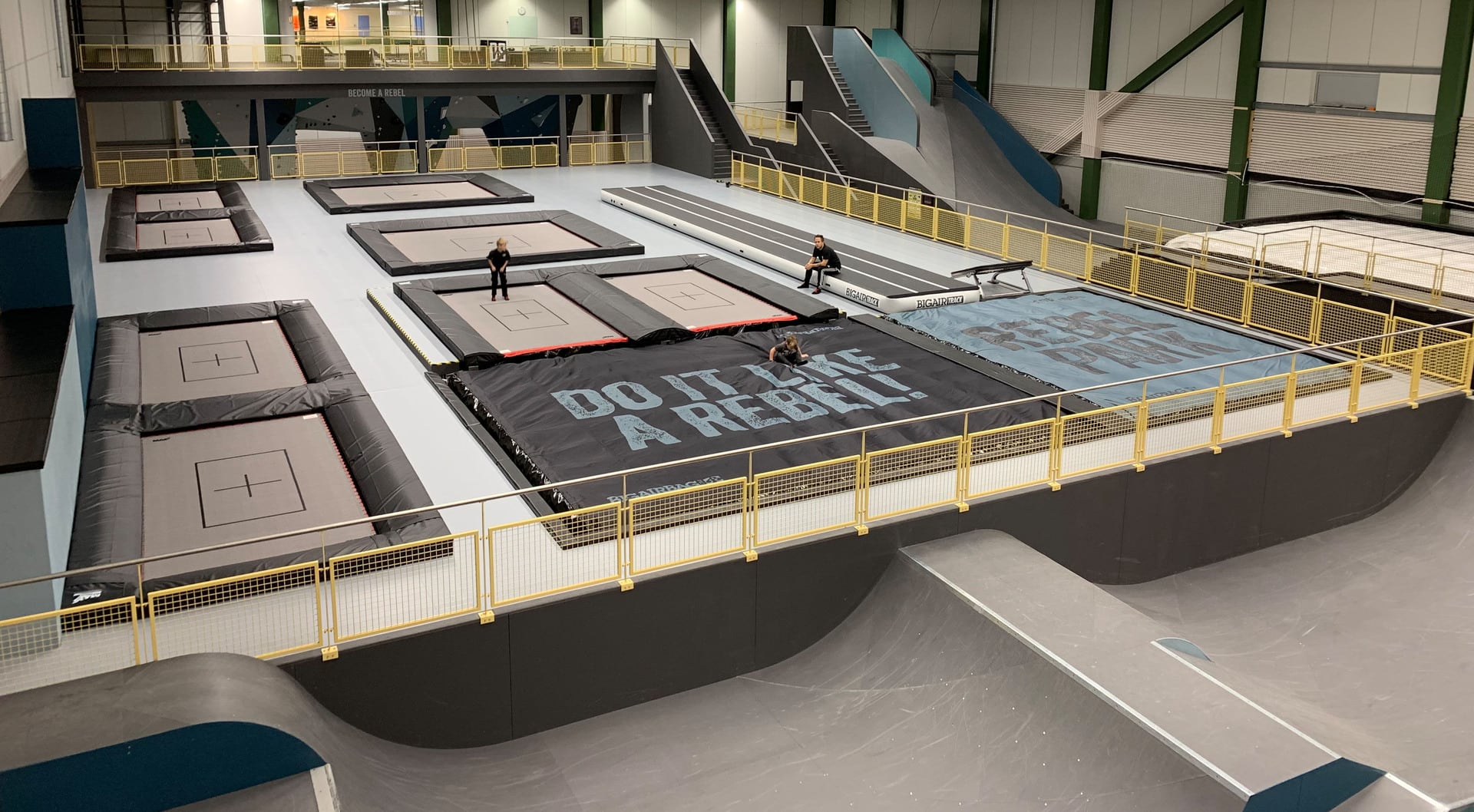 Set up
Rebel park really has it all and is truly a one of a kind park. Rebel park is unique because they combine a gymnastic facility with Freestyle sports. Progression is the key to Rebel park and that is the reason they have invested in the best materials for the ultimate set-up. The eight High performance trampolines from MaxAir are the best on the market and with the combination of the improved FOAMPIT BigAirBags you can rise above and beyond to get the best out of yourself.
You can work on your back flips and rotations in the gymnastics area and then put it to the test on the mega ramp with the newest BigAirBag model. The set-up is ideal for everyone who wants to develop further and to get to know different types of action sports like bouldering and freerunning. Rebel park has done a fantastic job with this being one of the few facilities in the world with this combination of activities.
The BigAirBags used for the Mega Ramp and the Gymnastic area is our new and improved model. The Bag is extra high and thick for an even softer landing. Thanks to the new internal digital pressure system you can adjust the pressure to your own desire. This makes for a more natural landing that will ultimately make the step to a real landing that much smoother.
Rebel park is one of the parks that contributes to breaking the boundaries in action sports.
Thanks to their attention to safety anyone can enter the freestyle action sports activities that they offer with ease. BigAirBag aims to develop the action sport scene, pushing athletes to new and more physically and mentally demanding tricks. With action sports growing in athletes and competitions, the need for more parks like Rebel park grows with it.
This year BigAirBag has been developing Air tracks. Air tracks are the solutions in gymnastics and other sports to give you that extra push you need to master a trick. The Air track is firm and gives you a good bounce but is also comfortable for landing. The BigAirTRACK is unique because we can make them customized in any size you like. We also have the option to make the bag thicker, so you can have a better bounce, which is perfect for action sports like Freerunning.
To stay up to date or for more information check up on our website regularly or subscribe to our newsletter.
Check out this video of Rebelpark