When it comes to snowboarding and skiing, the fear of injury can stop athletes from achieving greatness and beginners from giving it a go.
However, the head coach of freestyle snowboarding for Great Britain, Hamish McKnight, discovered a product which not only helped inspire Olympic success in 2018 but might have revolutionised snow sports forever.
In early December 2017, Hamish teamed up with our team here at BigAirBag®.
Hamish said: "For quite some time I had been imagining the creation of an inflatable reduced risk training environment for high-level athletes and development athletes together to train on."
"Unlike other manufacturers of landing bags in China or elsewhere, BigAirBag® was able to very openly discuss the design and use of the product with me."
"Firstly BigAirBag® had the experience to understand the remit of the product and were able to design something suitable to present to me. From there, we compared this with the existing designs I had worked on and came to some compromises collectively. All the time we worked back and forth over email and made sure to keep an eye on cost so the project stayed in realistic budget and did not creep."
The end result was the BigAirBag® LANDING– a gigantic 55×22 metre landing laid below an Olympic size jump for Team GB to use in preparation for the 2018 Winter Olympics in Pyeongchang, South Korea. This gave the athletes plenty of room to grab some airtime and perfect their tricks before the main event started.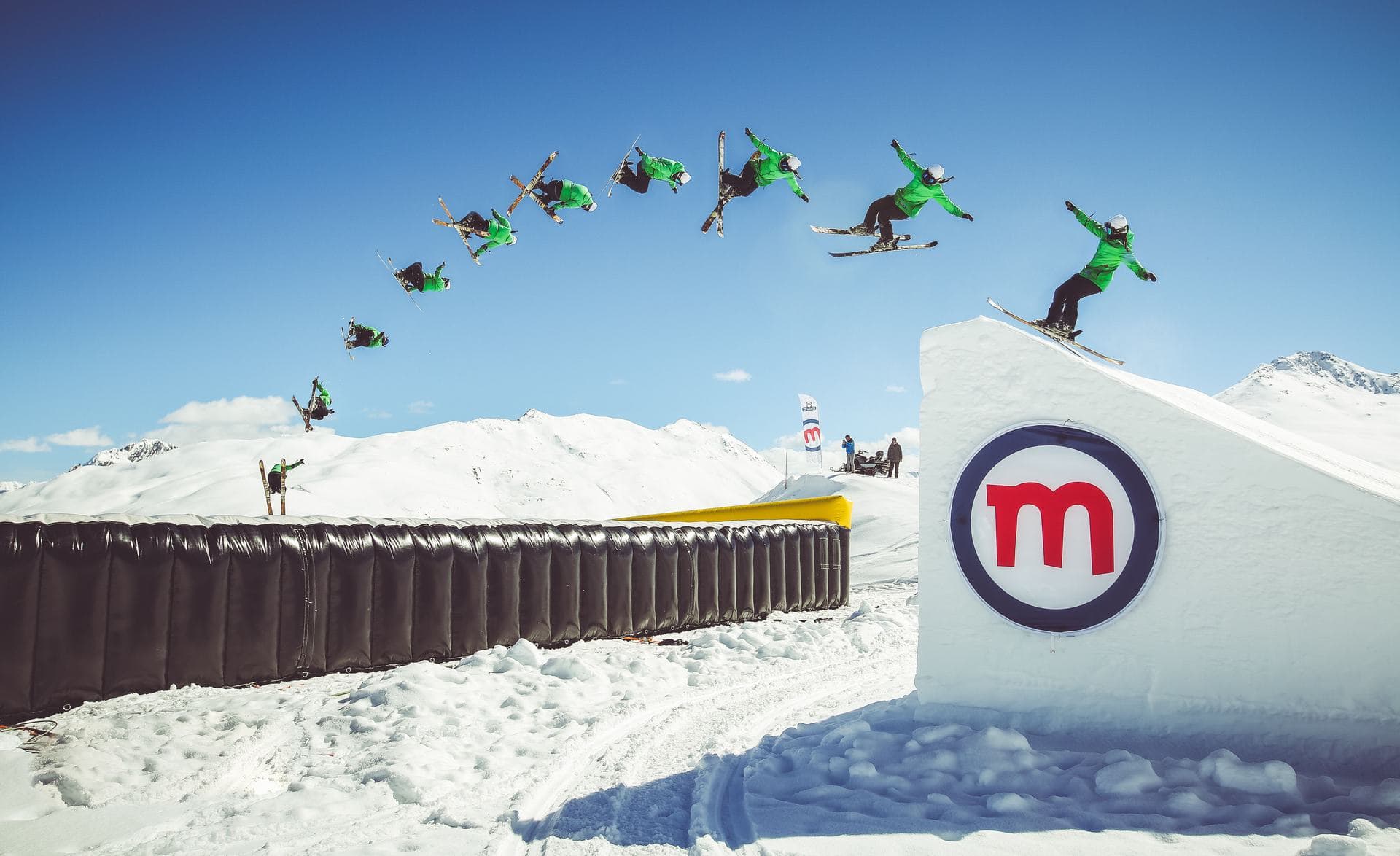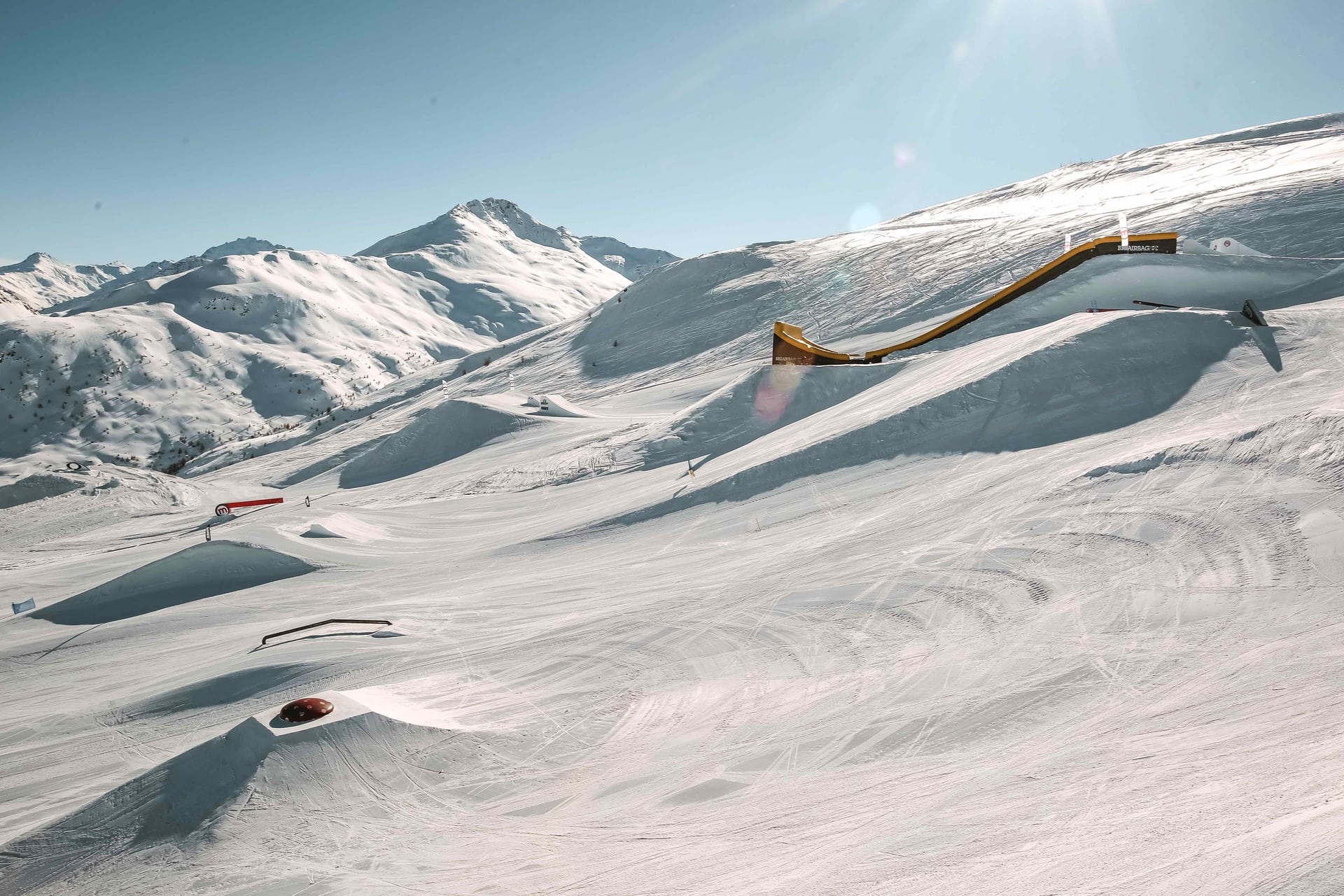 However, creating the bespoke BigAirBag® LANDING product for Hamish and his team was only half the battle. The real challenge was dragging 6.5 tonnes of PVC through the cold, snowy mountains to the Mottolino Snow Park in Livigno, Italy.
Nevertheless, our BigAirBag® crew worked tirelessly with the staff at Mottolino to make it a success.
Implementing this solution instantly proved to be an essential training tool for trying new tricks and technically improving existing ones with Team GB wasting no time to familiarise themselves with the set-up.
In fact, Billy Morgan was using it to practice before he picked up a bronze medal in the snowboarding Big Air event. A feat which landed him the accolade of being Britain's first ever male to win an Olympic medal on snow.
What are the benefits of having the
BigAirBag

®

Landing?
There's no getting away from the fact that high-level freestyle sport is very dangerous, with many athletes getting injured on a daily basis.
The problem is, the biggest limiting factor in the progression of the sport or any individual is the exposure to these risks.
Hamish and the GB team had lots of experience using older landing bags of varying designs. However, he stated that trying to achieve "the required air time and trajectory onto a landing bag like that was a challenge and the inevitable forces at work in landing were taking their toll on the athletes training in repetition."
That's when Hamish turned to us for our support and expertise.
The beauty of the BigAirBag® LANDING technology is that it allows real kinaesthetic feedback on full-sized complete tricks and trajectories.
Hamish said: "Fundamentally, having access to a reduced risk landing like this on the majority of training days has enabled us to reappraise the coaching process entirely. Larger groups of athletes are capable of training in a self-determined way and can very quickly transfer their acquired skill to a real jump."
"The learning experience inevitably requires athletes to fail and in our sport that normally means getting hurt. Not anymore. It's possible to make an almost catastrophic error on a jump and walk away smiling."
Building on Billy Morgan and the rest of GB's record-breaking success at the PyeongChang 2018 Winter Olympics is a matter of striking while the iron is still hot.
Hamish not only recognises the potential of the BigAirBag® LANDING as a way of generating more future GB medals, but also as an opportunity to boost the profile of snow sports as a whole:
"We now have a product that allows us and our resort partners in Mottolino to partner with other national teams and clubs to build and expand our training environment further. We will always look to the future at what can be done next."