"Every ending is always a new beginning."

April 2019 marks an important change in the history of BigAirBag® with Hans Weeren selling his shares of the company to me, Tomas Huting.
While the news may seem sad at first to some of our loyal customers, this is also an exciting opportunity for me to continue takingBigAirBag® to new heights!
An unforgettable journey so far
After working for the company for many years, Hans approached me to take over the business as a team in 2015. At that point, BigAirBag® was already a dream job for me but honestly, the company was sitting on its ass and was moving slow. Together with Hans, we worked tirelessly to breathe new life into the company and turn it into the proud and famous brand it once was when started in 2005. After working extremely hard to provide an excellent service to ski resorts, we successfully moved BigAirBag® into the adventure park and the trampoline park markets. 

During this time, we continued to take on exciting new FMX projects and help the riders to train double backflips or front flips, work with stunt companies, organize a 60 meter freefall record jump in the center of Amsterdam and create a BigAirBag® Landing training tool for Team GB – which helped Billy Morgan win Olympic bronze in the Pyeongchang Winter Olympics in 2018. We also managed to successfully oversee the building of our very own factory in Amsterdam, where our crew could focus on innovating, making technological improvements and manufacture the products ourselves. It was a very crazy time for myself and Hans – but it was also a defining moment for BigAirBag®. We were installing landing bags on all continents. Within a few years of working as partners, we made BigAirBag® into an even bigger brand in the sports and leisure industry across the world, while gaining a lot of extra fans by creating all of these great set-ups. I'm very proud to say that we've managed to makeBigAirBag® a huge success and put a smile on many people's faces!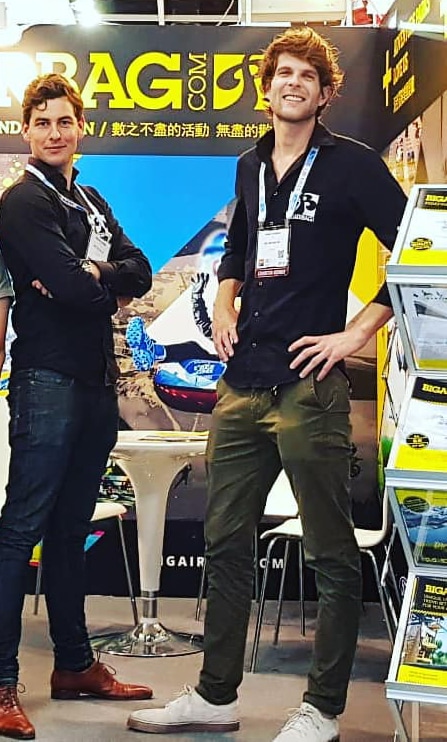 The future is bright for

BigAirBag

®
Now it's time for a new chapter. Hans has sold all of his shares to me, allowing him to slowly pull back from the company. When we first set up our own factory, one of our main goals was not only to improve the existing products but to also give us the facilities to focus on innovation so that we can serve a wider range of customer. Understanding client needs in different markets strengthen our knowledge base and capability to serve customers with high precision! I'm going to put a real emphasis on achieving this in the next years. We already have a handful of products in the testing phase, with the BigAirBag® Foam Pit Cleaner being one of many new releases. Moving forward, the plan is to work on various turnkey concepts too. Having already completed numerous installs, there's undoubtedly a real return on investment for businesses who want an all-in-one outdoor trampoline with a BigAirBag® product and bigger set-ups like a complete action sports tower.   On top of this, I will also focus on slope design and finding more technical ways to help athletes redefine limitations. One thing's for sure, BigAirBag® will continue to take massive leaps forward to ensure we always deliver quality, durable and innovative products. The only difference is that I will have both hands on the wheel, instead of one!
Sincerely,
Tomas Huting