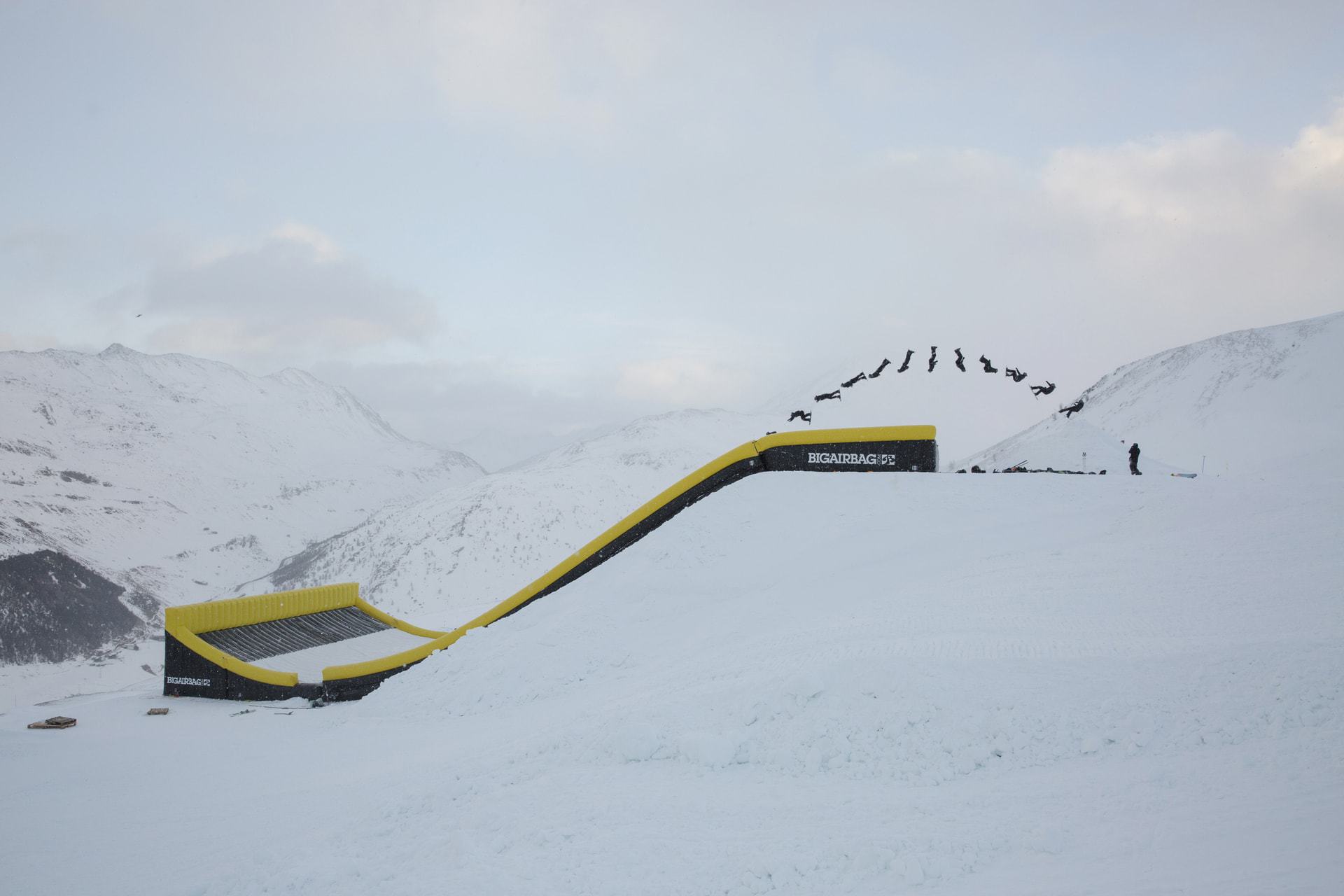 j
BigAirBag® reveals Great Britain's Winter Olympic secret weapon
Take a look at this snowboarder as he flies through the air, touching down on Team GB's Park & Pipe BigAirBag® LANDING, their secret weapon for freestyle training ahead of the Winter Olympics.
Even with an airbag between you and the slope, it still takes nerves of steel. You might have seen something similar before however, this set-up is in a completely different league of its own. The LANDING bag has been specifically designed to adopt the contour of the mountain, running smoothly down the natural slope. It is undeniably impressive, adjustable and fully customizable using highly advanced fabrics from Germany. Based on several rider's reactions, clearly an outright must-have for any extreme sports facility. A consequence-free limit pushing extravaganza, where any trick that could be imagined, can be attempted.
j
j
Martin Söderström 
We have seen Martin Söderström playing around in the Dome Adrenaline Zone in Sweden broadcasting some awesome tricks using the BigAirBag® LANDING. Martin Sörderström is currently a Red Bull Athlete and freestyle mountain bike extraordinaire.
 "These airbags are insane. You think it's going to absorb you, but then you just land and ride away. Maybe we can have these airbags as landings at competitions in the future, so we don't have to break our bones!" – Martin, Red Bull Athlete. 
j
j
"Throwing triples like its nothing"
 The GB Park & Ride team were practising on the BigAirBag® LANDING during training hours before the Olympics. It allowed them to push their limits and discover new realms of possibilities in order to shine bright when it matters. December has seen the installation of the largest BigAirBag® ever made. Located on the Italian slopes of Livigno, the extensive BigAirBag® is laid below an Olympic size jump, in prime position for athletes to grab some airtime before landing safely on the airbag. An increased throughput and reduced chance of injury. It offers national teams and Olympic programs an ideal training platform.
It did not take the riders of Team GB long to familiarise with the set-up, some were even throwing triples like it is nothing.The British head snowboard coach Hamish McKnight has been extremely positive.
"As coaches, we try and keep it simple, the BigAirBag® lets us do this. The riders have to do the work; it is them that need to figure it out."– Hamish Mcknight, British Snowboard Coach
As a result of BigAirBag's construction the team can focus on different aspects of freestyle ski or snowboard. Jamie Nichollshas been looking into uncharted territory with backside 1620s, while Aimee Fuller is refining her signature double backflip. Katie Ormerod, aware that her grab was the missing piece in her big air game, has been working on improving her "cab 9" (Switch front side spin) and is noticeably pleased with the results.
j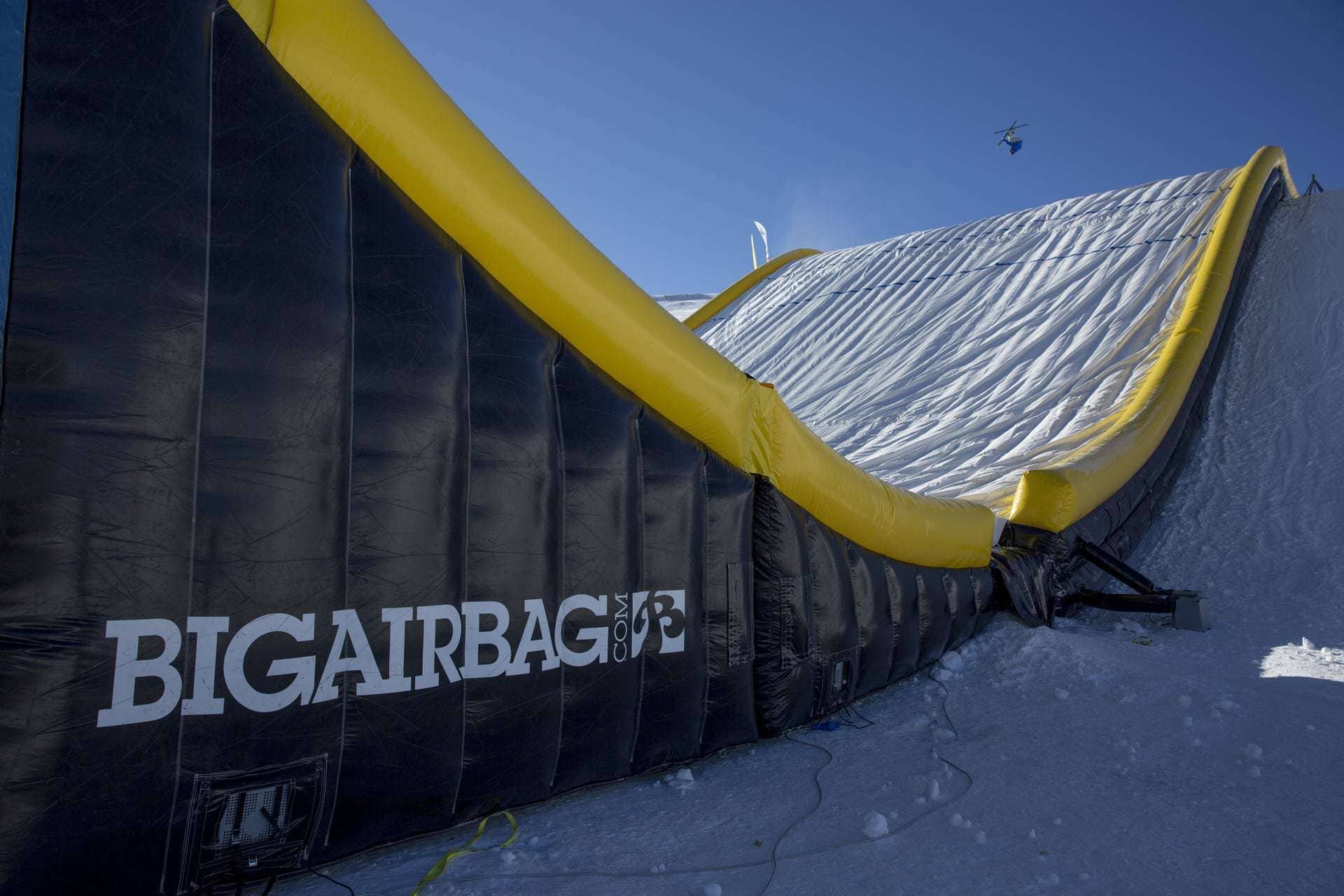 j
Multiple Extreme Sports
After more than one year of development and athlete testing BigAirBag® proudly unveils the LANDING bag. Multiple air valves allow for precise and independent adjustment of the firmness of both the upper and lower airbag chambers depending on preference and training targets. The highly advanced Topsheet material allows you to land and ride away even with sharp ski edges allowing for multiple extreme sports to be practiced. See Richard Ferteffortlessly performing his stylish backflip on a BMX:
 Watch his video on Vimeo: jjj [icon color="Accent-Color" icon_size="" image="fa-vimeo-square"]
Feeling
The feeling of heading towards a huge kicker, flying through the air, trying your first 360, but nevertheless knowing you will arrive safely on the surface and even ride away. That is what makes this BigAirBag® so incredibly special.  Most definitely we can say:
"There can only be one landing!" – Jamie Nicholls, Athlete
References: